The Friendship Lane Center for Cancer Care is focused on providing the cutting edge in cancer treatment in a comfortable setting that is close to our patients. In the past, obtaining new treatment methods required lengthy drives into Kerrville, San Antonio or Austin. We've worked diligently to provide many of the same treatment options that were, until recently, only available in major urban cancer treatment centers.
Beyond the technology we use, our physicians and staff are committed to creating a treatment environment that is more comfortable than the typical medical office. We provide a wide variety of support services and we believe that education is an important part of our partnership with our patients.
Our patients often receive treatments such as chemotherapy, hormone therapy or surgery as well as radiation therapy. To ensure the best possible outcome, this multi-disciplinary approach requires collaboration and coordination among the specialists on a patient's treatment team. Therefore, during your first visit you will meet with your radiation oncologist and a nurse practitioner. Your radiation oncologist may consult with any other specialists as necessary before your treatment begins to determine the best course of action.
The major goal of radiation therapy is to maximize cure while maintaining optimal organ function and quality of life. Because each patient's case presents unique challenges and requires individual attention, we urge you to consult your radiation oncologist about which treatment plan is best for you. It is extremely important to seek out an expert team of physicians who specialize in your type of cancer to ensure optimal outcome.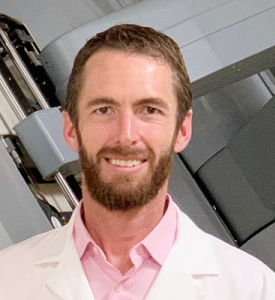 Radiation Oncologist
Dr. Robert Ebeling III is a Board Certified Radiation Oncologist. After attending Baylor University, he went to medical school at the University of Texas Medical Branch in Galveston, TX. After medical school he joined the staff at Tuft Medical Center in Boston. Then he spent many years in Georgia,
. . .
Read More